Published: 22/09/2019   Last Updated: 22/09/2019  
Tags: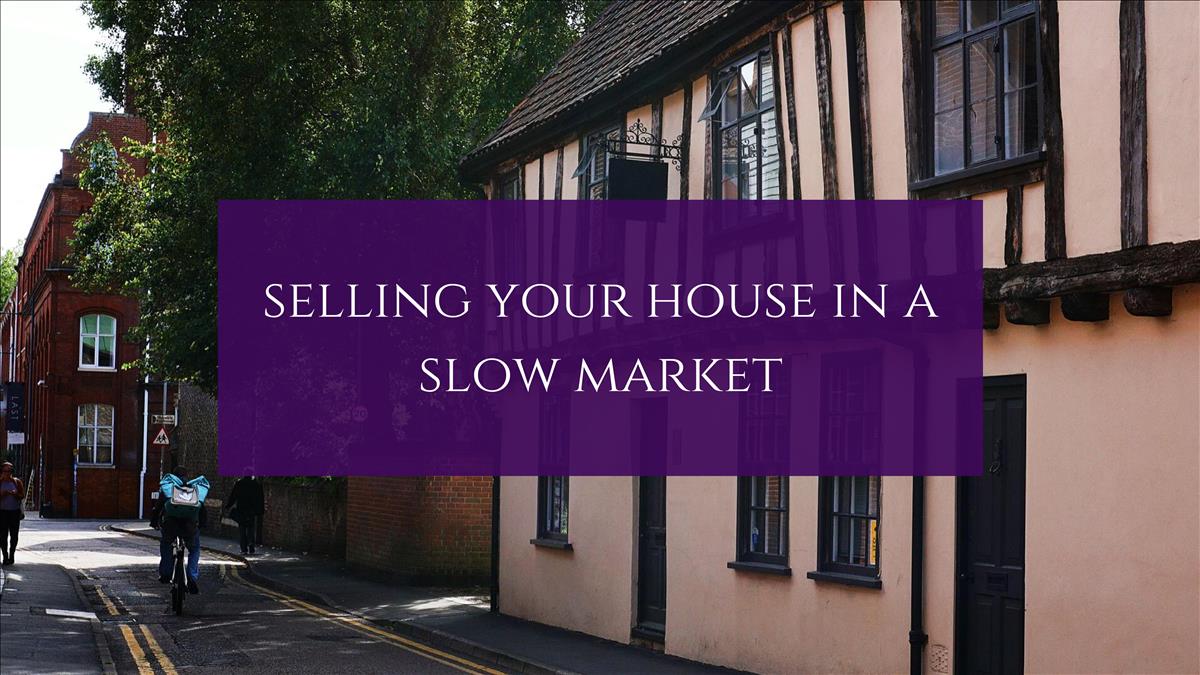 With all homeowners hoping for a quick and easy sale, selling when the market is slow can feel like a daunting prospect. But if you've found yourself in a position where you want, or need, to sell, there's no need to panic just yet.
Selling in a slow market may be tough, but with the right agent on your side and a little bit of know-how, you can give yourself the greatest chance of success.
Choosing Your Agent
Choosing the right estate agent for your home is always an important decision, but even more so in a slow market when extra effort is required to secure that all-important sale. Ask neighbours and friends in the area if they have any recommendations, and check online portals and local agents windows for houses on the market that are similar to your own.
Create a shortlist of agents you would consider using and ask each of them to come and give you a valuation. In a slow market, your agent's approach to marketing is key, so ask them what their plan is when it comes to selling your home.
A good agent will always be proactively looking for a buyer, not just getting a listing up on Rightmove and hoping for the best. Take a look at their website and ask to see their brochures, read their property descriptions and ask if they already have some potential buyers on their books. By asking these few simple questions, you should be able to weed out any agents who aren't willing to go the extra mile.
Finally, make sure you choose an agent you get along with! You're likely to be in frequent contact over the following weeks, so having an agent you like will make the process far more enjoyable.
The Valuation
Perhaps now you've seen a couple of agents you like who seem to be up to the task. Maybe they've both had similar properties on the market, both seem to know what they're talking about and both have promising marketing strategies. But between them, there is one major difference - their valuation.
It's tempting to go for the agent who gives you the highest valuation for your home, but this can be a mistake - especially at a time when the property market is tough. A price that is too high can put people off before they have even picked up the phone, and for people who are filtering their online search, may prevent your property from being seen at all.
Estate agents consider a number of factors before arriving at their valuation of a property, including local amenities, home improvements and unique features, aesthetics, location and more. Valuations should always be evidence-based, so once they give you their price, ask them how they have reached it. The best comparables are properties similar to yours that they have already sold in the area as well as evidence from Rightmove's Best Price Guide.


Working With Your Agent
You and your agent are working towards a common goal - getting your house sold for the best possible price. There are a few things you can do throughout the process to reach this goal as smoothly as possible.
When it comes to selling your house, first impressions count. Take a look at the front of your house through a buyer's eyes and see if there is anything you can improve. Do the windows or front door need a lick of paint? Are the paths swept and flowerbeds tidy? If the house looks well-kept and tidy as soon as a buyer pulls up it sets the tone for the rest of the viewing and can really make a difference towards achieving a positive outcome. Don't be afraid to ask your estate agent if they've noticed anything that could be improved - remember that you're in this together.
It may be a chore, but when your home is on the market it should always be kept as tidy as possible (if anything it's a great excuse to have a clear out!). For some more top tips about keeping clean and tidy for viewings as well as a handy downloadable cheat sheet, be sure to take a look at our blog post,
Preparing Your Home For A Viewing
.
In a slow market, it's particularly important to be accommodating to potential buyers wanting to come and view your home. Unless there is a really good reason not to, try to say yes to any viewings that your estate agent comes up with. Equally, your agent should always be prepared to conduct viewings out of office hours and on the weekends if necessary.
Check in with your agent on a weekly basis to see how things are going and to get feedback on any viewings you may have had - good agents should be happy to keep you in the loop and readily available for your questions. In a slow market, this feedback is particularly important. If someone chooses another property over yours, ask why. It might not be because of anything you can change, but it's always worth asking just in case.
Be Prepared
Appoint a solicitor very early on in the proceedings. It takes time to get everything in place for a sale and you don't want to slow the process down by only starting once you've got an offer.
The forms you need to complete for a contract pack can be prepared include:
Fittings and Contents Form - Confirming all the items that are included/excluded or available for sale.
Property Information Form - This details ownership of the boundaries, amongst other things will ask if any works requiring planning consent have been carried out, any improvements or replacement windows/heating etc which would require certification, whether there is evidence of Japanese knotweed in the garden, whether any insurance claims have been made and if there is anyone over the age of 17 (other than the owners) living at the property.
Utilities Questionnaire - To provide details of all energy suppliers, telephone and internet providers, when the bins are emptied etc.
If the property is leasehold then a Leasehold Information Form is also needed (this will give details of the Management Company) .
Start getting together all the documents you can find to do with your house, and dig out your passport and recent utility bills with names of all the owners. If you do this ahead of time, you'll be ready to leap into action when an offer comes in and you won't make the buyer nervous by dawdling over the paperwork.
Final thoughts…
No one can ever predict how long a home will be on the market, but the fact is that even when things are slow, houses do sell. However, it's called a slow market for a reason, so it's best to go in prepared with a timescale that reflects that. It may be frustrating, but if you follow these tips and put in the effort, the drag hopefully shouldn't last for too long. Once you've achieved that sale, it will all be worth it in the end.
Having sold houses for the last 40 years, I've got first-hand experience of the peaks and troughs of the market. If you'd like to have a chat about selling your property, please don't hesitate to give me a call on 01494 871 991, or pop into the office on the village green.