Published: 13/12/2019   Last Updated: 13/12/2019  
Tags: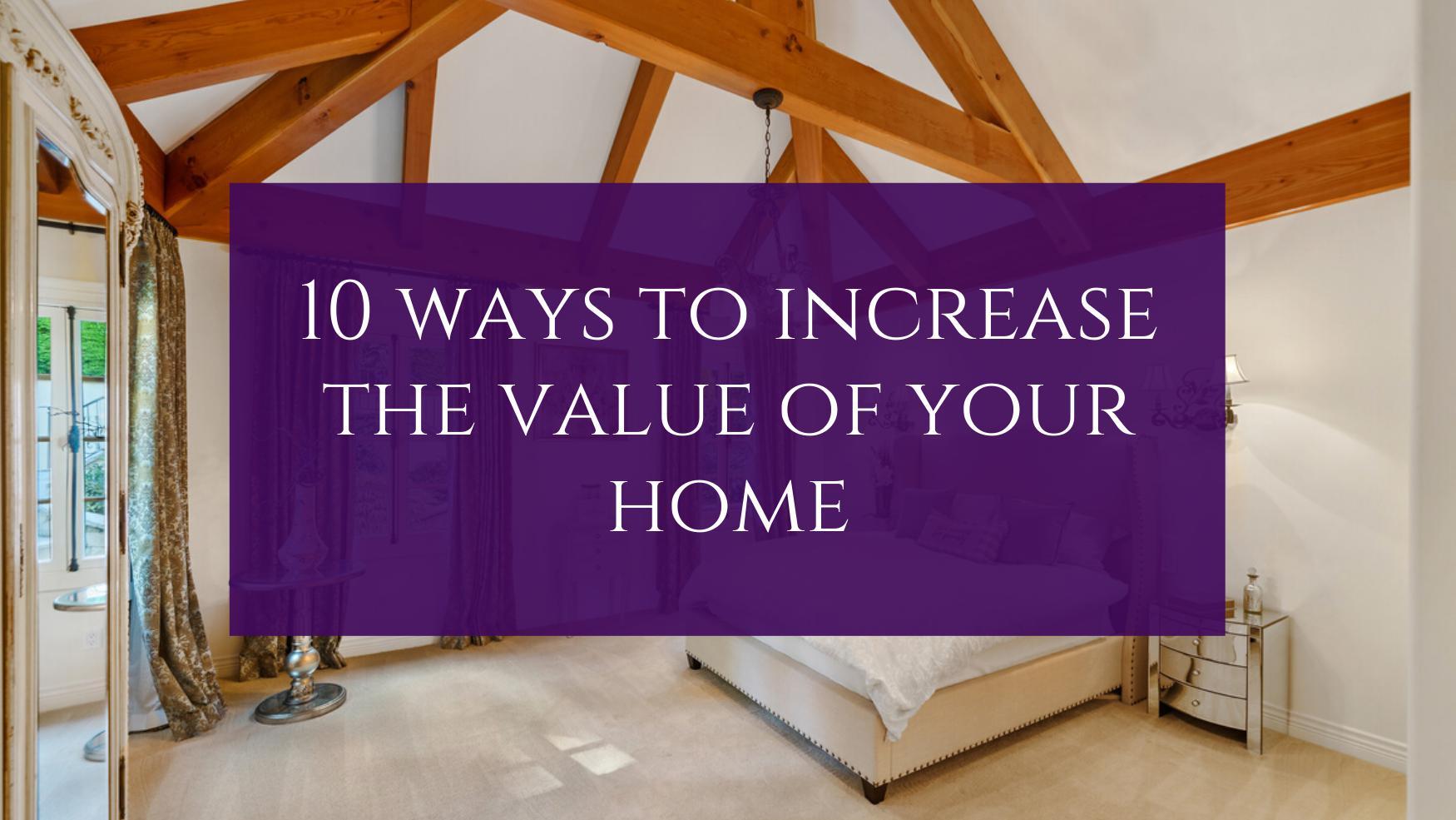 With so many home improvements to consider, it can be hard to know which will add the most value to your property. From complete renovations to small enhancements, there are ways of adding value for almost any budget or time frame. Here are 10 ideas to help get you started:
Loft conversion
Loft conversions rank among the best value for money when it comes to home improvements, adding up to 15% of your home's market value. Adding an extra bedroom and increasing the floor space, it's easy to see why.
However, it's an improvement one for the faint of heart. Loft conversions come with their own unique set of considerations, as well as some complex planning rules. If you're looking to transform your loft, you'll need to contact a structural engineer, and maybe even an architect to bring your idea to life.


Update your kitchen
For many people, kitchens are the hub of the home, so improvements here can be a great investment. Decide on a budget before you visit the kitchen showroom, and bear in mind that moving existing appliances or the sink around will add on to your costs. Newly fitted kitchens can add anywhere between 4 and 10% of your property's market value but, as with any big changes, the trick is to ensure that the amount you spend is in proportion to the price of your home.
If you don't want to go all out with your kitchen, smaller changes such as updating unit doors, floor tiles or worktops can make a huge difference to the look and desirability of your property.
Increase your kerb appeal
As the old saying goes, first impressions count, and increasing your kerb appeal is an easy improvement that needn't cost the earth. In fact, a third of Brits say that they would be willing to pay 25% more for a house with a fresh lick of paint to the front door and brickwork, clean windows and a well-kept garden.
All it takes is one weekend of work, and you could be reaping the rewards on your property's sale.
Add an extension
An extension will be a pricier investment than some of the ideas on this list, but the return in value can be huge. According to research by Nationwide, an extension on a 3 bedroom house can add up to a whopping 23%.
Before you make any decisions, though, be sure to talk to your local estate agent to find out what kind of homes sell best in your area - and for how much. Every home has a 'ceiling price' – the maximum you can expect to achieve based on similar properties, and so it's vital to know this before you start the work.
Go open plan
If you can't quite stretch to an extension, you can transform your home by knocking down the wall that separates your kitchen and living room. Not only will it create the illusion of more space, but an open-plan set up can be a big draw for modern families.
Make sure you get a professional opinion though, as you'll need to be certain whether the wall is load-bearing or not. If it is, knocking it down without the correct measures in place could well prove disastrous.
Convert your garage
Did you know that around 90% of garages in the UK are either left empty or filled with junk? If this is the case for your garage, then a conversion could be a great option for you. If it is attached to your house, then converting it into another room such as a playroom or study, could increase your home's value by up to 20%.
Add another bathroom
An extra bathroom in your home is a great way to add value when you consider the cost of the build against your return. The average bathroom will set you back between £2,500 to £6000, but can add up to 6% in value. For the average house price, that's around £13,000.
A word of warning though - converting a bedroom into a bathroom or adding an en-suite to a small one may end up decreasing your price. A better choice may be to add an en-suite to a large master bedroom.
If adding another bathroom isn't suitable for your home, some updates to fixtures and fittings or installing a glass screen in place of a shower curtain can also work wonders in achieving your optimum price.
Build a conservatory
A conservatory usually adds far more value to a property than it costs to build - as long as you do it right. If it's under a certain size you won't even need to get planning permission, though it's important that it complies with the Building Regulations.
Relatively simple and fairly inexpensive, this addition can add up to 5% in value (plus a great spot to sit with your cup of tea and biscuits until the sale goes through).
Add eco-friendly elements
Energy-efficiency not only saves you money, but it also adds value to your home over time. Things like solar panels and added insulation can make a big reduction in your yearly energy bills, and research suggests that eco-friendly homes can achieve up to 6% more value than a standard property.
Get decorating
Fresh decoration may not have a direct impact on the value of your home, but the market will always place a premium on a beautifully styled and well looked-after property. This can be as simple as painting the walls a neutral colour, upgrading light bulbs or re-grouting tiles.
Final thoughts...
There are many ways you can add value to your home, some easier and more inexpensive than others.
If you do decide to bring in the builders, just be aware that the path to the final product can sometimes be a rocky one, and the return you will get is never guaranteed. Always get several quotes before you start the work, and ensure that the cost will not outweigh the profit.
If you're not sure which option is best for you, feel free to call the office on 01494 871991 and we will be happy to help.