View articles published in:
Published: 21/08/2019   Last Updated: 21/08/2019 08:31:31   Tags: Selling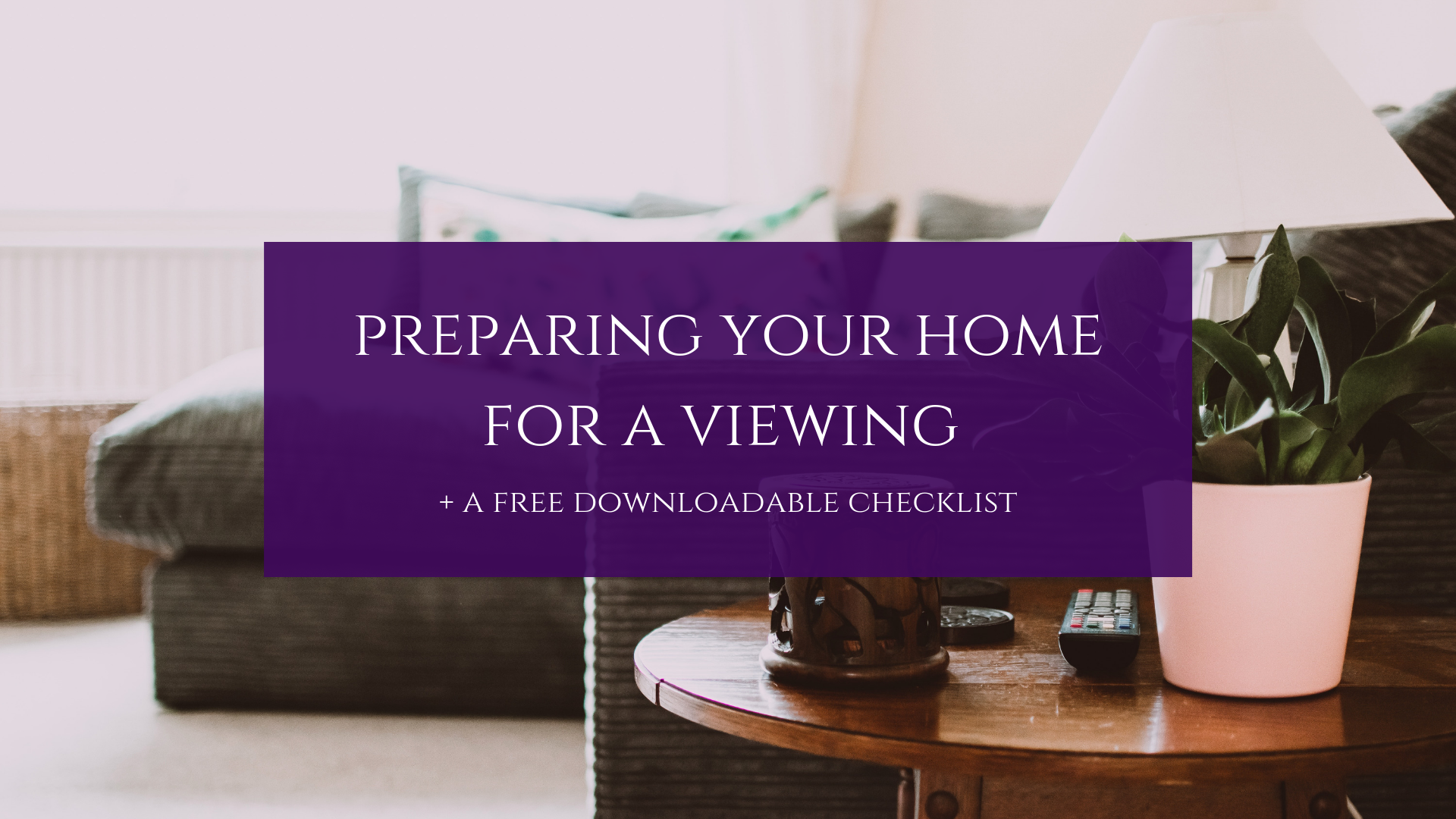 It goes without saying that viewings are all important when it comes to selling your property. While you can't guarantee that everyone who visits will fall in love with your home, you can make sure that for each and every viewing you are presenting your property at its best.

To do this, you need to put yourself in the prospective buyer's shoes and show off your property's strengths. Here are some key things to consider when preparing your house for a viewing.

Kerb Appeal

Everyone knows that first impressions count, so it's important that the front of your home looks as appealing as the interior. Stand outside your house and try to imagine you are viewing it for the first time. Is there anything that can be improved? Get rid of any clutter and make sure the lawn is mowed, hedges trimmed and any weeds removed from your beds or pathways.

The same rules apply for the back garden, making sure to also give any outdoor furniture or BBQs a quick wipe down.

Lighting

Letting natural light into your home will instantly create a warm and welcoming environment. Make sure all the curtains are open and give the windows a quick clean so they are letting in the maximum amount of natural light possible.

Bathroom

Toiletries can easily pile up in the bathroom, so have a quick tidy up before every viewing. You can take advantage of a bathroom cupboard for this, or by having a handy storage box or basket at the ready. It takes just seconds to do, but can have a big impact on how others see your home.

Make sure that you also have some clean towels on standby so you can replace your used ones at a moments notice - white, fluffy towels are particularly appealing.

Of course you should always try and clean before every viewing, but if you are short on time a quick wipe down with some bathroom wipes should be enough to keep it sparkling.

Kitchen

If you don't have time to do the washing, hide away your pots and pans in the dishwasher. Similarly, if you have excess clutter on the worktops, try and fit as much as you can in the kitchen cupboards and make sure to give your counters a wipe down.
Kitchens are a major selling point for homes, so you want to make sure there is as little distraction as possible in here. It may be cliche, but freshly brewed coffee is an appealing aroma in the kitchen, so there's no harm in getting a pot on shortly before your viewing.

Lay the kitchen or dining room table with your best placemats and cutlery - it will help prospective buyers imagine what it might be like to actually live in your home.

Living room

As well as the obvious decluttering, make sure your living room is looking its best by plumping up the sofa cushions and straightening up your throws. A fresh bunch of flowers can also add a lovely finishing touch to the room - it's one that any future buyer will be spending a lot of time in, so you want to make them feel at home.

Bedroom

If you've got them, white linens are great for making the bedroom feel more calm and spacious, but if you're short on time just make sure that the bed is beautifully made. Again, you want to keep the bedroom as clean and clutter-free as possible, so if you have any bits and pieces or clothes left out an easy way to clear them it to temporarily tuck them away in the laundry basket - it's a better option than the wardrobe, which viewers may well have a peek inside.

Pets

While it's not always possible, it's always good to have someone take care of your pet during a viewing. You never know who is going to walk through the door, and if they are nervous around animals or generally not too fond of them, your pet could seriously harm your chances of having a successful viewing. Similarly, pet bowls, toys and beds should be cleared out of the way.

Temperature

How a prospective buyer feels is just as important as what they see, so make sure each room of the house is at a comfortable temperature - usually between 18 and 20 degrees.

None of these tips takes too long to complete, but can have a huge impact on your chances of a successful viewing. If you'd like a free, handy checklist for you to run through before each visit, simply click the link below to download your copy.
Last Updated: 02/08/2019 13:17:24   Author: Beth Colman    Tags: Selling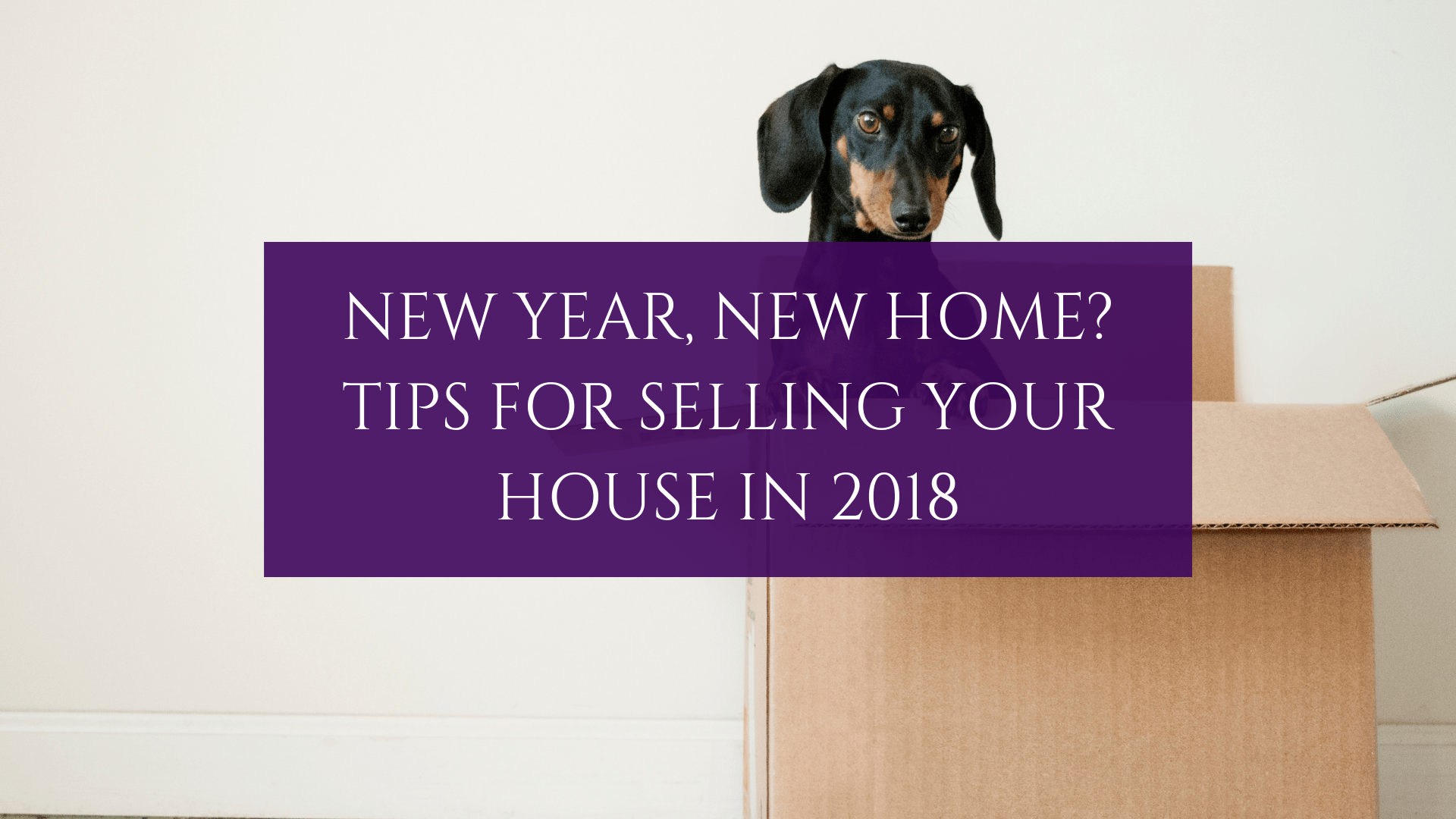 The start of a new year is synonymous with new beginnings, and if you're looking to sell up in 2018 now is the perfect time to start preparing. While interest picks up after the Christmas lull, take some time to implement these straightforward fixes that could make all the difference to your future sale.
1. First Impressions Count
Research suggests that buyers make their mind up about a property within the first 30 seconds, and sometimes before they've even set foot inside! While sprucing up the interior is an absolute must, don't forget about the exterior of your home. Be sure to sweep your path and get rid of any weeds, and store your bins out of sight if possible.
If your front door needs a fresh lick of paint, this is a cheap and easy DIY project. Traditional, muted colours are a timeless choice, and one that viewers tend to favour.
2. Time to Declutter
Stacks of magazines and untold numbers of knick knacks all detract from the feel of your home, not to mention make it look smaller. Sort through each room deciding what needs to be binned or recycled and what can be taken to the charity shop. As a general rule, if you haven't used something in the last year, you're unlikely to be using it again! Encouraging buyers and lightening the load of your future move, decluttering is a great first step in getting your house ready for sale.
For household items that make the cut, ensure that as much as possible is tidied away out of sight. The more of a blank canvas your house appears, the more the potential buyer will be able to imagine their own belongings inside.
3. Smells that Sell
Scents can completely change the impression of a property, and are an easy way to create a relaxed and homely atmosphere. Citrus and fresh laundry smells top the list of viewer's favourites and are easily achieved with a simple reed diffuser. You want the smell to be noticable but certainly not overpowering, so try just one in the living room and one in a bedroom to start with. It may be one of the oldest tricks in the book, but brewing a fresh pot of coffee just before a viewing is another way to create a warm and cosy feel.
Just as good smells can change the ambience of a property, bad smells like smoke or wet dog are enough to drive a buyer away. It can be hard to recognise scents we are surrounded by every day, so ask an honest friend or neighbour to take a walk around and tell you if they smell anything unseemly.
4. Space and Light
Great lighting can add perceived value to your home by creating the illusion of space. Painting walls a neutral off-white will give your rooms an instant lift, but if you don't have the time to redecorate there are other small fixes that can really make a difference. Try replacing any heavy curtains with blinds and replacing light fixtures with high-voltage bulbs. Well-placed mirrors can increase the overall sense of light, and are great for opening up smaller areas like hallways






If you are thinking about selling your home this year, give Colman and Co a call on 01494 871991 for a free valuation with no obligation. We are the specialist agent for Chalfont Giles and the surrounding area, with over 40 years experience.
Last Updated: 02/08/2019 13:18:27   Author: Beth Colman    Tags: Buying, Selling, Local
With a whole host of estate agents out there, from online-only to big high street names, how do you know which one is best for you? Here at Colman & Co, we believe that choosing to sell with a local agent boasts numerous advantages that larger companies can't provide, making them number one choice for you and your home. Here are 5 reasons why.
1.Expert Local Knowledge
When it comes to property, extensive local knowledge can have a significant impact on the speed of your sale as well as the accuracy provided at the valuation stage. Not only will an independent local agent be in tune with the best types of buyers for your home, but they will also have a working knowledge of the community, local features and amenities and first-hand insight into the market of the area. All this makes for a more tailored service that will likely produce a much smoother sale.
2. A More Focused Sale
Independent agents have smaller portfolios than their counterparts in major firms, allowing them more time to spend on your sale (free from the pressure of financial targets). The result tends to be a much more in-depth look at your property with more frequent updates on progress and marketing, making your move as stress-free as possible.
3. That Personal Touch
As independent agents aren't governed by higher management, they have the flexibility to deliver a more bespoke service to suit the needs of individual clients and get to know them on a more personal level. The ability to be able to pop into the office shouldn't be overlooked either; speaking to prospective buyers face-to-face is a great chance to really sell your property prior to a viewing.
4. Local Contacts
Established agents are often trusted members of the community and will be well connected to other local professionals such as plumbers or solicitors. With this comes the knowledge that your property is in safe hands, whether you're revamping a room before viewings or signing off on a sale. As well as a wealth of professional contacts, local agents might even have potential buyers lined up who are looking for property just like yours.
5. Your Best Interests at Heart
For smaller agents you are a valued client, rather than just a number. Small businesses rely heavily on a good reputation and excellent customer feedback, meaning they will often go the extra mile to not simply secure the sale, but one at the best possible price to the best possible buyers.
Show More Articles